FESTIVAL INFO
All the info you will ever need is here……
WHERE AND WHEN IS IT?
Baby Boondocks will be held in the village of Sherston, Wiltshire on 7th – 8th July 2017.  The site comprises of Sherston Village Hall and the field next to it – 1 big festival stage outdoors and a second stage inside the village hall.
TIMINGS
The gates will open at 5pm on Friday 7th July – the first band is likely to be on just before 6pm.
The arena will stay open until midnight, then close until 11am on Saturday 8th July. Music will kick off about noon and go on all day until the arena closes at midnight.
GETTING THERE
Sherston is about 4 miles from M4 J17 and  J18 (about half way between the two) and is 15 mins from Chippenham station (1:15 from Paddington) and to complete the picture about a hour from Heathrow.
The postcode for your SatNav is SN16 0NA.
Walking
By far the best option if you live locally.  We are currently looking into a shuttle bus option to and from Malmesbury, but this will depend on whether the majority of tickets are bought by Malmesbury Residents or to those more local to Sherston.  Watch this space!
Parking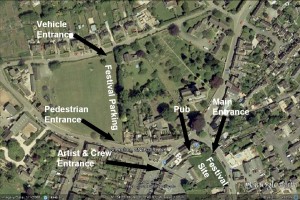 Festival parking is on the rec which is about 150 yds from the main site.  You have to drive round the houses (literally!) to get to the vehicle entrance but once parked the pedestrian entrance is only a few yards from the arena entrance.
There is a shortage of parking in the village so don't be tempted to try and park on the street – you won't get any closer than the official carpark and you might just find an irate resident sat on your bonnet when you get back!!
Drop off, pick up and taxis
If you are just dropping off or picking up there is an area you can do this in the centre of the village – you'll see the signs when you arrive.
Same goes if you book a taxi – tell them to meet you at the drop off and pick up point.
Cycling to the festival
You are welcome to cycle to Baby Boondocks but please be aware there won't be any dedicated cycle racks.
CAMPING
The Baby Boondocks campsite is 5 minutes walk through the village from the arena.  Under 18s don't need a camping ticket but they will ONLY be allowed on and off the campsite with a ticket holding adult.
MONEY
Bars and traders can't take cards and there are no cash machines on site so bring plenty with you (but look after it!). The nearest cash machine is in Malmesbury, about 2 miles away.
GETTING IN
So who is and isn't allowed in?
Under 16s MUST be accompanied by an adult and they are your responsibility at all times.
Under 14s will not be allowed into and out of the arena area without a responsible adult.
16 – 18 year olds may attend unsupervised but we may require proof or age and/or parental consent and contact info BEFORE they are allowed in . They are yours, so parents must be satisfied that their under 18 is mature enough to attend and agrees to remove them from the festival at the request of the organisers – the organisers cannot accept parental responsibility for any under 18 year old on site.
Sorry, but no dogs (or any other animals) apart from guide dogs.
Anyone found with any banned substances or 'legal highs' will be asked to leave.
Anyone who is drunk and or disorderly will also be removed from the festival.
And finaly, be nice!
It is a lovely, chilled, mellow little festival, so rule 1 is 'be nice!'  Please look after each other, be considerate to our neighbours and look after the land – then everyone's happy.